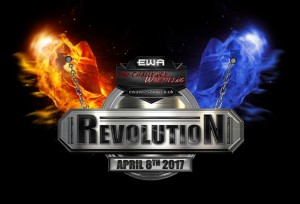 EWA Commissioner Charles Lloyd began the show announcing the return of Eddie Dennis, which was hastily interrupted by Dominic Vincent Smith & Jim Hunter. DVS sarcastically welcomed Eddie back, himself then being interrupted by Charles, announcing that since DVS had thrown his weight around and get his guy back and in the title match, so had Charles, and DVS was in fact in that match too.
Luther Reinhardt .vs. Jack Flash – Ended in a No contest. Interrupted by Hit Set, having The Element make the save, Charles then intervened making a 6man tag for later in night.
Vanity Def. The Fever
Brandon Thomas Def. Clint Margera
Johnny Storm Def. Jim Diehard
Hit Set & Luther Reinhardt Def. The Element & Jack Flash via DQ
Gabriel Kidd Def. The Phantom
Match 6 (Main Event)
EWA Title
Eddie Dennis Def. Jim Hunter & Dominic Vincent Smith
……………………………………………………………………………………………………………………………………………………..